Banks' emissions intensity drops 70% in five years since the Paris agreement
Total assets increased by 76% while underlying emissions dropped by 47%
Bank's annual greenhouse gas footprint is equivalent to just over 138 households
Bank is Net Zero for Scope 1&2 emissions since 2012
We have just released the annual independent report into our energy and emissions performance over the last six years (FY 2016 – FY 2021). These years coincide with the UN global climate meetings in Paris (COP21) and Glasgow (COP26).
We have grown considerably over the last six years (assets +76%, members +24%, employees +23%, offices double), but our greenhouse gas (GHG) emissions have shrunk.
Since 2016 our total emissions reduced by 47% and our emissions intensity reduced by 70% (assets) and 57% (per employee).
We have been net zero for all Scope 1 and 2 emissions (electricity and fuel use) since 2012 by sourcing all our electricity from renewable energy providers and purchasing accredited carbon offsets.
Key results
Total assets increased 76% to $9.7 billion, members increased by 24% to 221,000, the number of offices occupied doubled from 6 to 12, and FTE staff up 23% to 567
Annual Scope 1&2 GHG emissions were reduced by 47% (from 1,108tCO2-e to 2,093), and are net zero.
The Bank's emissions intensity reduced by 70% (0.38 to 0.11 tCO2-e per $ million $ of assets)
We invested $850,000 in emission reduction measures, 83% ($705,000) on PV, LEDs and EVs, and 3% on carbon offsets, which are 100% renewables.
Spent $300,000 upgrading lighting in our owned offices with 3,000+ energy efficient LED lamps
Spent $270,000 installing 641 solar PV panels in our owned offices, generating around 18% of our total electricity consumption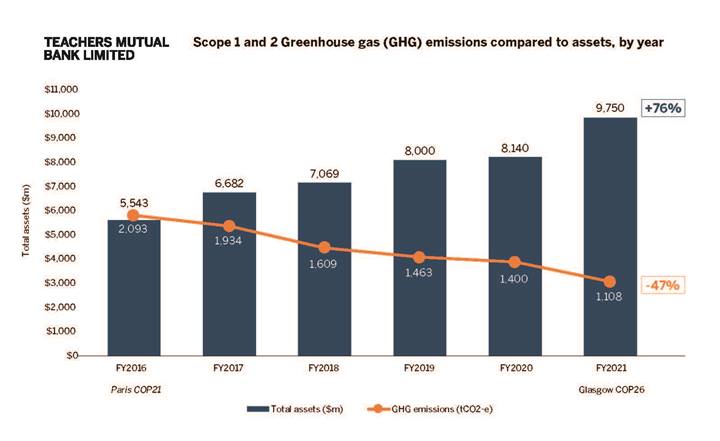 Read the full report on our environmental performance from 2016-2021.